Lately I have been running across so many delicious breakfast recipes ideas!  While I do LOVE a savory breakfast….there is something about sweet, decadent breakfasts that seem to always make an occasion special.  I guess that would explain that the only time of year my family would have Strawberry Waffles was on Thanksgiving and Christmas morning!
And the one thing MOST of these sweet breakfast dishes have in common…is something equally yummy to drizzle on top of them!
That's where THIS recipe comes in……..
Buttermilk Caramel Syrup
When I read this recipe on OurBestBites.com…I literally read through ALL 95 COMMENTS from people RAVING about how much they LOVED it!  I think the thing that really sold me on it was people talking about it's sweet, salty taste! I am a sucker for sweet and salty together! I introduced my husband to Spanish peanuts on ice cream with fudge sauce several years ago and he's never forgiven me! 😉
I ended up making this the next day (which happened to be Saturday…my favorite "breakfast" day of the week!)  It was all I had been hoping for…..and more!!!!
3/4 c. buttermilk
1 1/2 c. sugar
1 stick real butter
2 Tbsp. corn syrup
1 tsp. baking soda
1 tsp. vanilla
Combine buttermilk, sugar, butter, corn syrup, and baking soda in a LARGE pot. Like one you'd make soup in. Yes, you'll have way more pot than ingredients (and I'm not referring to the green leafy stuff), but this will boil all over your newly-cleaned stove if you put it in a smaller saucepan.
Bring ingredients to a boil and reduce heat to low (as long as it's still bubbling, you're okay). Cook, stirring very frequently, for 8-9 minutes. You're basically making candy here and candy-making requires constant vigilance.

When it's done, it should take on a luscious golden-brown color. Remove from heat and add vanilla.
I put mine on pancakes and it was DELICIOUS, but I read that people use it on all SORTS of things like Ice Cream and Bread Pudding!
And here are a few more ideas I came across that are on my list of stuff to try this on:
There's this one….French Toast With Strawberry Butter.  How delicious does THAT look!?!?  Delicious AND pretty!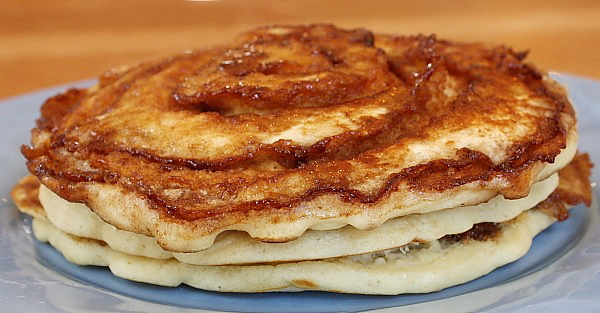 Then there's this one…..Cinnamon Roll Pancakes.  Oh be still my heart!
…and this one…Stuffed French Toast.  Ooo la la!
And finally good old fashioned…..Blueberry Pancakes!!
I am officially declaring tomorrow morning…."Make Something Sweet and Delicious For Breakfast Day!"