I haven't posted anything that involved sewing for awhile.  There's a reason for that. I'm really not much of a seamstress. (sorry Mom!) Despite my mother's best efforts to teach us girls to sew…it just was never my forte`. But that being said….I really DO enjoy sewing once in awhile. I find it rather therapeutic. Especially if it's something simple that I don't have to think too hard about.
This Fabric Coasters project I found at Under The Sycamore fits the bill! It first caught my eye just because it's just so dang cute! Secondly, I only had to read through the very simple instructions once and I got it! (Someone asked me to make a quilt square recently and said it was a "very simple" design.  For the LIFE of me…I could not figure it out! My sewing self-esteem took a beating that day!) The author of the blog, AshleyAnn, admits to only being able to sew straight lines and since I'm pretty sure I have THAT down…this was for me!
Would make a cute gift!  No?   Yes!  (Adding to the list).
Head on over to Under The Sycamore for a very simple tutorial!  Can't wait to make a whole stack of these!
And this is just ONE of her super cute and easy DIY ideas!  Check out the rest here!
***
BUT DON'T LEAVE JUST YET!
***
TODAY you get a BONUS "One Good Thing" because the photograph of the finished product with the slurpee-looking drink placed on it reminded me of another idea I've been meaning to post before summer goes away!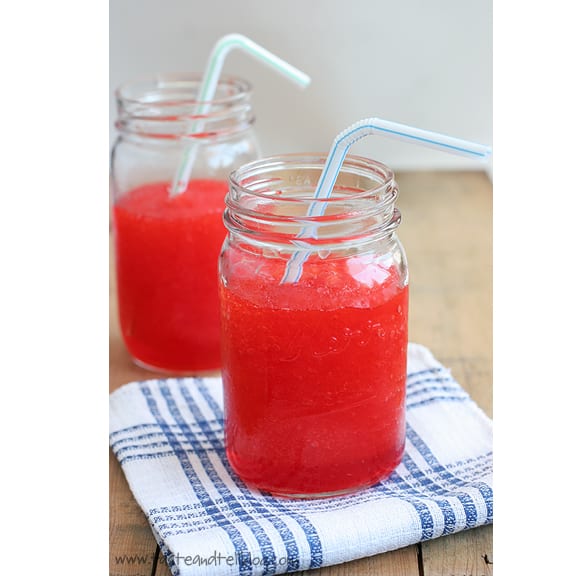 Found these babies over at Taste And Tell blog and have been C R A V I N G one ever since! Don't they look perfectly thirst-quenching???
And to top off the awesomeness of this idea…the recipe is literally less than 50 words…including the title! (yes, I counted.)
Homemade Slurpees
makes 2 slurpees
Put the ice in a blender. Add enough carbonated beverage to just make the ice float. Add in the pre-sweetened Kool-Aid. Blend until slushy. Serve at once.
Notice no FLAVORS are mentioned….that's because there are ENDLESS POSSIBILITIES here to come up with your own favorite!  The one pictures is a basic cherry Slurpee, with lemon-lime soda and cherry Kool-Aid (which sounds DELICIOUS to me!)…but you really could use combination. Other suggestions from Taste and Tell:   red cream soda with Tang powder; pineapple soda with Tang, orange soda with tropical punch, or pretty much any Kool-Aid flavor with lemon-lime soda.
Suddenly I feel PARCHED!  Do you think it would wake anybody up if I made a Slurpee in the blender at this hour??? 😉     Yeah….I better wait.
I may receive compensation when you click through and purchase from links contained on this website. I always offer my own genuine recommendation. Learn more.