I'm thrilled to help Jill out with a guest post while she heads off for a fabulous vacation! I'm so glad I met Jill at the Click Retreat, it's always wonderful to meet amazing women who are so so talented!
I'm Kim from Today's Creative Blog and today I'm showing you one of my new favorite crafts!
It's that time of year when we start thinking about gift ideas for the upcoming holidays! Easy handmade gift ideas are always welcome and fun to do. The key word being EASY!
We do neighbor gifts and I always like to come up with something that doesn't break the bank, but has style and personality.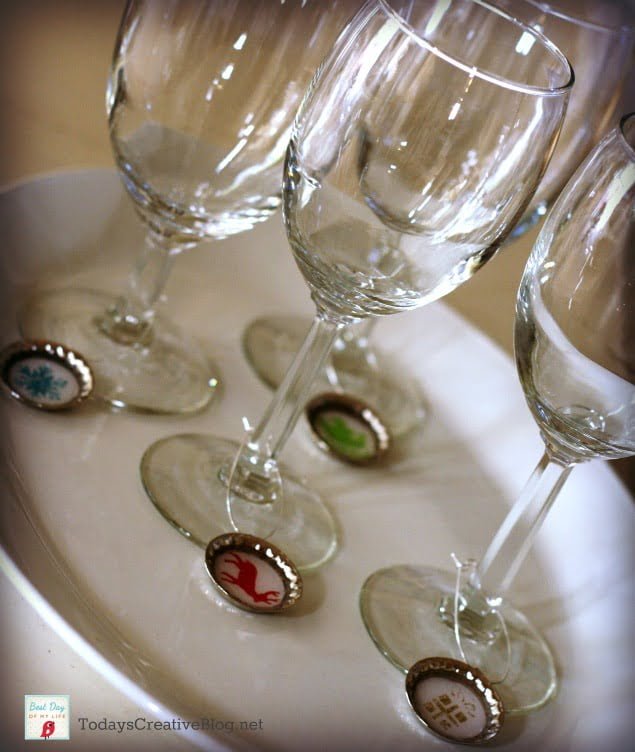 I've been making many styles of DIY Drink Markers. It seems like this time of year is when I really use them the most, whether I'm serving sparkling cider, water or wine, and I thought they'd also make great gifts. This simple tutorial makes it easy to customize for your party or friends.
How to Make Drink Markers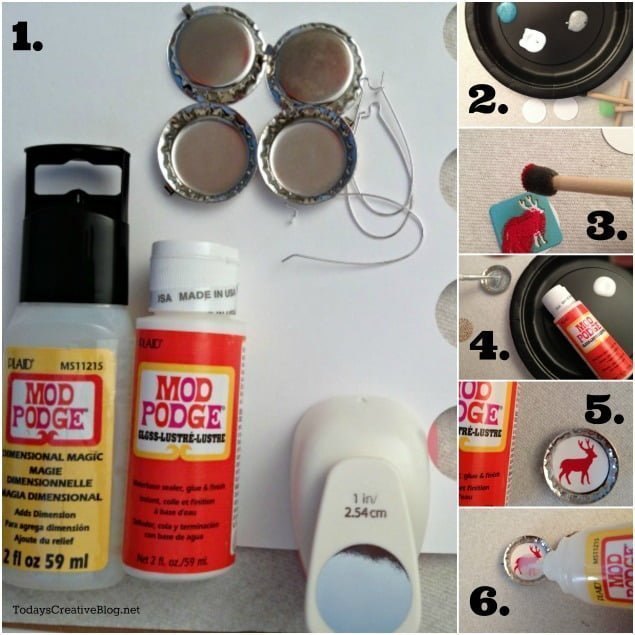 1. Gather all your supplies:
Mod Podge Dimensional Magic

Mod Podge

Bottle Cap Charms with a loop

Wire loops (they were in the diy earring section of my craft store)

paper

stencils

acrylic paint

various paint brushes- spouncer, and small paint brush
2. Punch out your circles using white cardstock. Prepare all the paint colors you plan on using.
3. Apply your stencil and paint to the paper punch – I used the adhesive stencils.
4. Apply Mod Podge to the bottom of your bottle cap.
5. Place your paper punch inside your mod podged bottle cap and then apply a coat of Mod Podge on top of the paper punch.
6. Pour Mod Podge Dimensional Magic into your bottle cap until the paper punch is completely covered.
They will look a bit cloudy, but don't panic! Allow to dry for 24 hours. I know it will be hard to just walk away, but you must! Don't poke and touch after a couple of hours like I did the first time I made these. Just walk away. When you look at them the next day, they'll be clear and beautiful!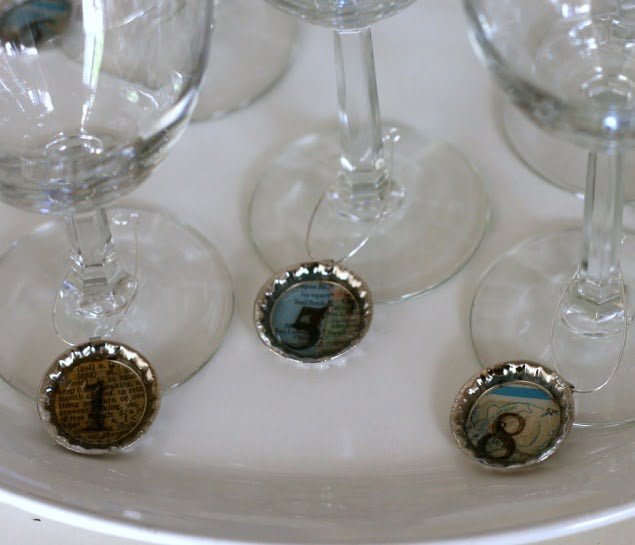 Experiment! Try other paper and styles. As long as people can find their glass, it's all good.
For more EASY handmade gift ideas.


Thanks for having me Jill! I hope your toes are getting sandy!
You can find Kim at Today's Creative Blog.