Some 4th of July "eye candy"……ENJOY THE DAY!!!!
We the People of the United States, in Order to form a more perfect Union, establish Justice, insure domestic Tranquility, provide for the common defence, promote the general Welfare, and secure the Blessings of Liberty to ourselves and our Posterity, do ordain and establish this Constitution for the United States of America.
Dress up your potted plants for the Fourth.
Find containers that are slightly larger than your existing pots. Look for red, white, and blue ones, or paint containers to match the patriotic color scheme. Place your potted plants inside the new containers and they're ready for Independence Day. (Shown: red geraniums and blue lobelia.)
DIY Bunting
Make your own bunting for the Fourth of July. Buy several yards of patriotic-patterned fabric (determine length based on where the bunting will hang). Starting at one end, gather the fabric about every 24 inches and secure the gathers with red, white, or blue yarn. Use the same color of yarn to attach the fabric where desired.
4th of July Fabulous Flag Treats
A special treat for your 4th of July picnic that will catch everyone's eye, as well as their taste buds.
Red, White and Blueberry Trifle
A heavenly mixed berry trifle made with summer fresh blueberries, strawberries, white chocolate pudding, angel food cake and cream. A beautiful guiltless dessert that would make your July 4th table proud.
Hurray for the red, white and blue!
Patterns with Punch
A crisp white cottage porch pays tribute to the grand old flag in a casual, homey style. The patriotic look on this porch comes from a strong assortment of patterns. Oversize bunting in stripes and polka dots, a striped rug, and pillows in stripes, polka dots, and gingham emblazon the porch in red, white, and blue.
Festive Napkin Rings
Fashion a set of red, white, and blue napkin rings in no time.
Cut 9-inch lengths of grosgrain ribbon or twill tape. Notch 1 end, or cut it at an angle. Loop the other end through 2 D rings, wrapping ribbon around the rings' straight edges, and glue it to itself (with fabric glue). Center a rolled napkin on the ribbon; thread the ribbon's free end through the rings as you would a belt, and pull it snug.
Party Buntings — in red, navy blue, white fabric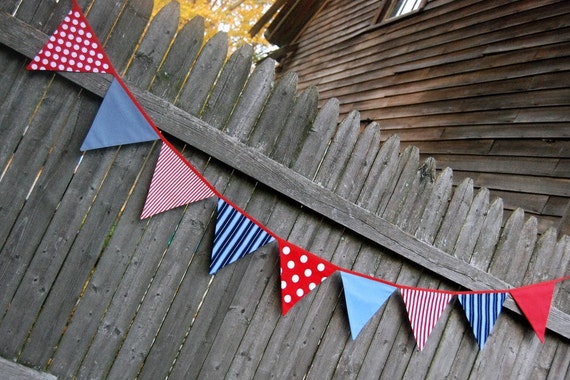 Star Medallion
Fabric star medallions will brighten up your party like daytime fireworks.Use standard cotton prints for this project — nothing too heavy or light. Spray starch helps the creases keep their shape.