It's been awhile since I've made a "real" dessert for the fam…so today I decided to pay homage to the quickly passing Autumn and make an apple dessert of some sort. I stumbled across this recipe at PassTheSushi.com just yesterday and for some reason felt inspired to give it a try. I think the thing that intrigued me was that after you chop up the apples, you put them in a saucepan with a little bit of water and some cinnamon and cook them until they are fork tender (about 10 minutes). Then when you put them in the oven to bake, it only takes 20 minutes and dessert is served!
This comes in very handy when you have a hungry brood staring in the timer on the oven every 2 minutes asking when it's going to be done! 🙂 This becomes even more of an issue when the whole house smells divine! You must try this recipe…if for no other reason than to enjoy the smell of it wafting through your home. It's truly smells like fall!
Happily, my "hunch" about this recipe turned out to be spot on! It was sooooo delicious! Tasted as good as it smelled! That makes this recipe an E.A.T. triple threat in my cookbook. Easy, Aromatic, and Tasty! 🙂 (I totally just made that up as I was typing it. lol. Kinda lame….but it's staying in.)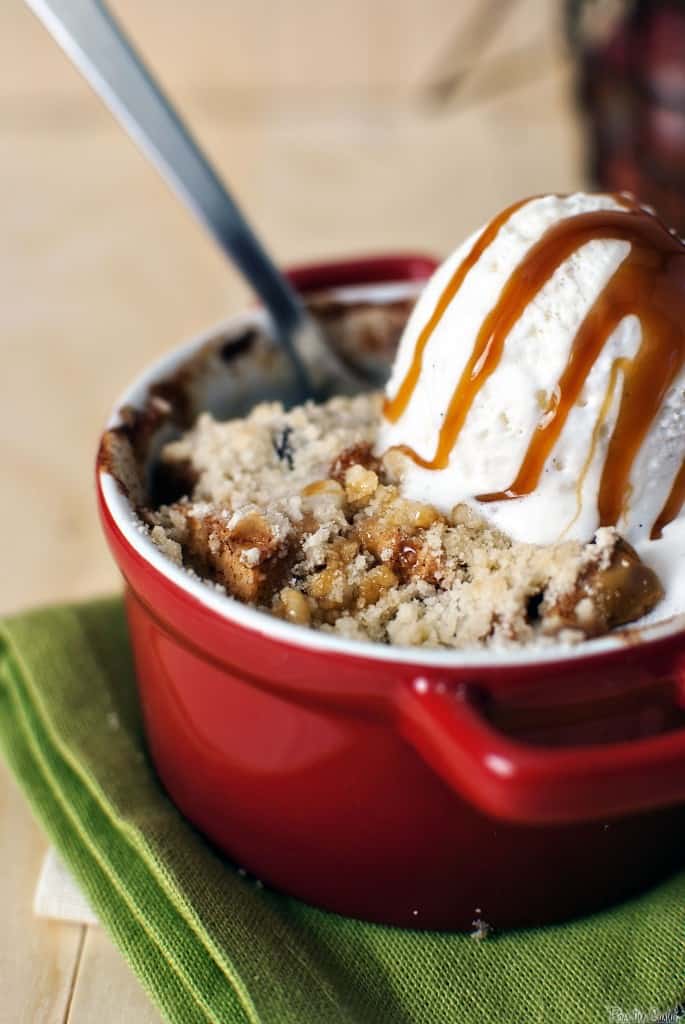 Ingredients:
3 MacIntosh apples

(I'm not sure if I used MacIntosh apples…I know they were green…)

2 tbs water
1/4 teas cinnamon
1/4 cup chopped walnuts

(OMITTED)

1/8 cup raisins

(OMITTED)

3/4 cup all-purpose flour
3-4 tbs butter

(I MIGHT have added a few more Tablespoons of butter) 🙂

1/4 cup brown sugar
1/8 teas freshly grated nutmeg

(mine wasn't "fresh"…just the kind in the little bottle)
Preparation:
Preheat oven to 350 degrees F.
Peel, core, and dice the apples into 1/3 to 1/2 inch pieces. Put them a saucepan with the water. Sprinkle with the cinnamon, stir in to coat the apples. Mix in the raisins and walnuts (or not). Cook for about 10 minutes, stirring occasionally. (You're going for fork tender apples here).
Make the crumble topping by rubbing the butter, flour, and brown sugar with a dough blender or fork. (I honestly prefer to use my hands to do this…it's kind of like playing with sand.) When it has reached a sand-like consistency, you're good.
Put the apples into a small ovenproof dish or individual ramekins. (I used a glass pie plate and ONE ramekin for my sons' gluten-free portion). Cover heavily with the crumble mixture and bake in the oven for 20 minutes or until golden and bubbly. Let cool (or not).
Serve warm with custard or ice-cream and freshly grated nutmeg on top. (We put heaping scoopfuls of vanilla on top! Perfection!)
"Delicious autumn! My very soul is wedded to it,
and if I were a bird I would fly about the earth
seeking the successive autumns."